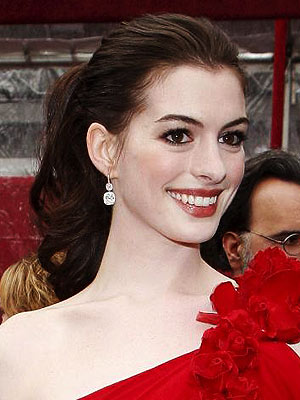 Anne Hathaway appeared in "E! True Hollywood Story" Heath Ledger (2008), Original Air Date: 11 July 2008, TV Series: "E! True Hollywood Story" (1996).
Heaven's Gain is Our Loss!
,
It seems like only yesterday that Heath Ledger left us. His death was sudden and unexpected. As somebody once said, when it's your time it's your time to go. With the death of Heath Ledger by an accident of over-medication, Heath is finally getting the rest that he desperately was seeking for in heaven than on earth. This one hour is a loving tribute with cast members like mini-me's Verne Troyer showing genuine tears as he talked about his friend, Heath. In fact, nobody says anything negative about Heath's life except that he was taken too soon. There are some moments like the sex scenes between him and Jake Gyllenhall in Brokeback Mountain that could have been left on the cutting room floor. Other than that in a short hour, Heath is fondly remembered by co-stars, friends, and colleagues as a warm-hearted wonderful human being. In fact, I wish that there were more men like Heath around. Nobody has forgotten the daughter that he left behind too.
Episode Cast
Beng Spies
...
Narrator


Heath Ledger
...
Himself (archive footage)
Mark Naglazas
...
Himself


Annie Murtagh-Monks
...
Herself
John Rapsey
...
Himself
Melissa Thomas-Dunkley
...
Herself
Ann Fay
...
Herself


Jefery Levy
...
Himself
Shaun Cassidy
...
Himself (archive footage)
Rick Rosenthal
...
Himself


Chad Hartigan
...
Himself


Bryan Brown
...
Himself (archive footage)
Gregor Jordan
...
Himself
Noreen Hobson
...
Herself


Mel Gibson
...
Himself (archive footage)


Mark Addy
...
Himself (archive footage)


Shannyn Sossamon
...
Herself (archive footage)


Naomi Watts
...
Herself (archive footage)


Ang Lee
...
Himself


Michelle Williams
...
Herself (archive footage)


Anne Hathaway
...
Herself (archive footage)
Annie Proulx
...
Herself


Keith Szarabajka
...
Himself


Christian Bale
...
Himself (archive footage)
Vincent Fantauzzo
...
Himself - artist


Verne Troyer
...
Himself
Paul Browne
...
Himself - NYC Police Deputy Commissioner
Ray Kelly
...
Himself


Drew Pinsky
...
Himself
Kim Ledger
...
Himself / Heath's Father


Vincent Fauntauzzo
...
Himself