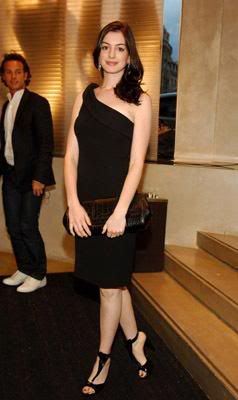 Anne Hathaway starred in the 1999 FOX television series Get Real for one season, after which it was canceled. Hathaway's first filmed role in a motion picture was as Jean Sabin in The Other Side of Heaven (2001) opposite Christopher Gorham. Before production of Heaven began in New Zealand, she auditioned for the lead role of Mia Thermopolis in the Garry Marshall-directed The Princess Diaries (2001). Hathaway auditioned for the role during a flight layover on the way to New Zealand and won the role after only one audition. Marshall claimed that he loved her immediately because she fell off her chair during the audition and believed her clumsiness would make her perfect for the role. (However, in a 2008 conversation with Steve Carell, Hathaway denied that she fell during this audition, although she openly admits to being a "klutz".) The Princess Diaries was released before The Other Side of Heaven in the hopes that its success would increase interest in Heaven. Across the world, The Princess Diaries was a commercial success and a sequel was planned shortly after. Many critics praised Hathaway's performance in Diaries; a BBC critic noted that "Hathaway shines in the title role and generates great chemistry." The Other Side of Heaven was received weakly by critics, but it performed well for a religious-themed film.
Then In February 2002, Anne Hathaway made her Broadway debut opposite Brian Mitchell in the City Center Encores! production of Carnival! She received positive reviews for her portrayal of Lili; the role demanded both acting and singing and was a continuation of her success as a comic actress.
Anne Hathaway continued to appear in family-oriented films over the next three years and subsequently became known in mainstream media as a children's role model. In 2002, she appeared in Nicholas Nickleby (2002) opposite Charlie Hunnam and Jamie Bell, which opened to positive reviews; the Northwest Herald referred to it as "an unbelievably fun film" and the Deseret News said that the cast was "Oscar-worthy." Despite critical acclaim, the film never entered wide release and failed at the North American box office, totaling less than US$4 million in ticket sales.
Her next film role was as the titular character in Ella Enchanted (2004), the film adaptation of the award-winning novel, which opened to mostly indifferent reviews. Anna Hathaway sang two songs in the film as well as two on the soundtrack, subsequently prompting questions of whether she planned to release an album in the future, to which Hathaway jokingly responded, "I have no desire for world domination through the pop charts."
At last, in 2004 Anna Hathaway was set to star opposite Gerard Butler in The Phantom of the Opera, but was forced to turn down the role due to the movie having a production schedule that overlapped with that of The Princess Diaries 2: Royal Engagement, which she was contractually obligated to make. Disney began production on The Princess Diaries 2 in early 2004 and it was released in August of that year. The film opened to negative reviews, but still managed to peak higher at the box office than its predecessor, commissioning $95.1 million against a $40 million budget.